Volunteer Memphis Hosting Free Financial Literacy Webinars for Make a Difference Week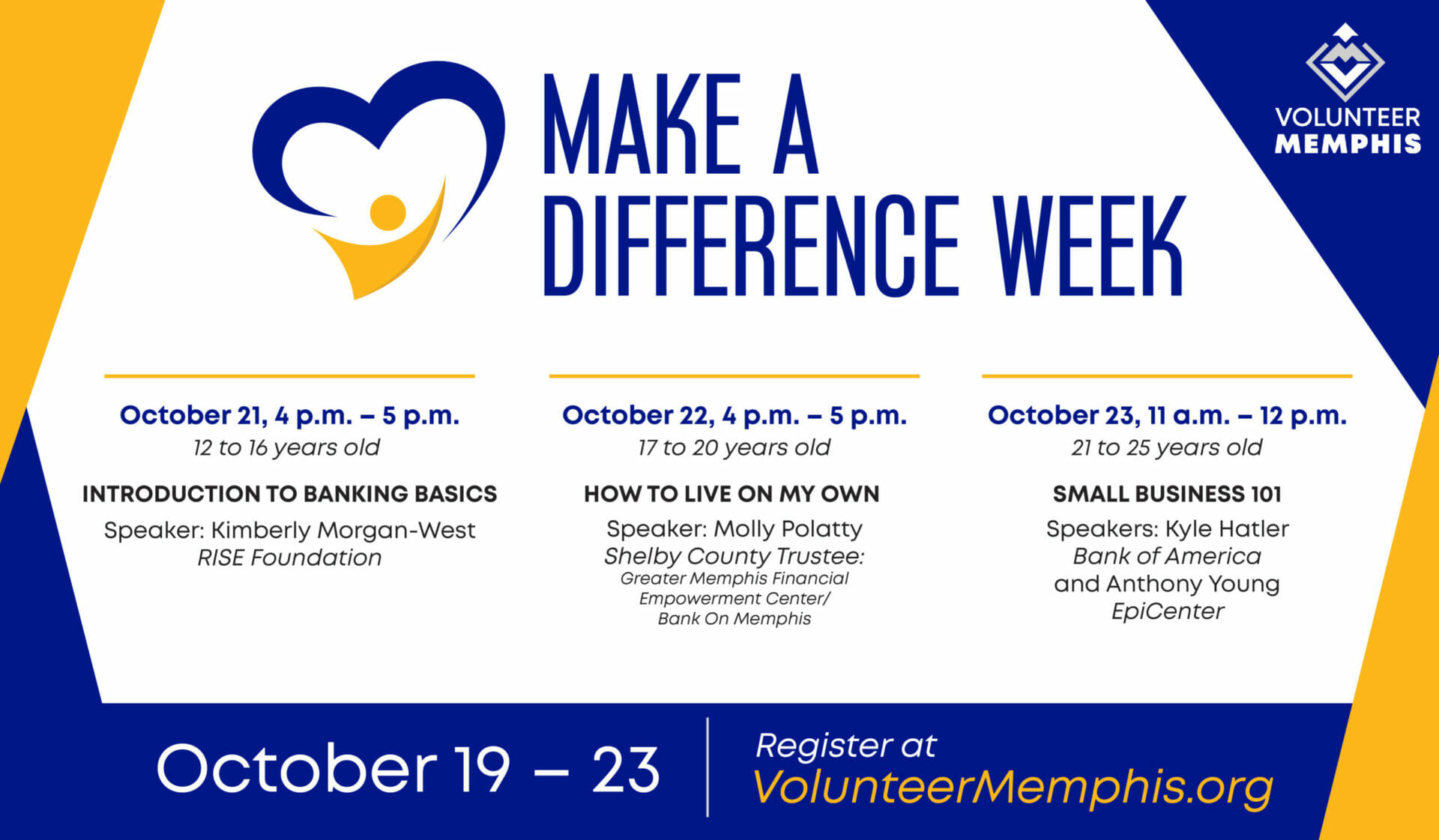 MEMPHIS, Tenn. – October 5, 2020 – Volunteer Memphis and partners are bringing financial literacy skills to students and young adults online during Make a Difference Week October 19 – 23. The virtual classes are free and open to anyone, those interested can register on the Volunteer Memphis website at https://volunteermemphis.org/events/.
Presenters from Volunteer Memphis, RISE Foundation, Shelby County Trustees: Greater Memphis Financial Empowerment Center/Bank On Memphis, Bank of America, and Epicenter will host webinars aimed at educating people ages 12 through 25 on how to maximize their money.
"We are thrilled to host these free lessons online for anyone who would like to attend," said Andrea Hill, Director of Volunteer Memphis, "Financial health is shaped early, and we hope these free lessons provide life-changing knowledge and inspiration to young adults in our community that might not otherwise be exposed to these ideas."
National Make a Difference Day was created by the nonprofit Points of Light as a way to inspire people to give back to their communities. For nearly 30 years, Make a Difference Day has been held on the fourth Saturday in October and has now grown into the largest national day of community service.
For their local Make a Difference Week, Volunteer Memphis will provide free links to age-appropriate financial literacy resources on its website at VolunteerMemphis.org. In addition to the educational resources and webinars, Volunteer Memphis will also be hosting giveaways throughout the week.
Make a Difference Week Schedule
Introduction to Banking Basics

Speaker: Kimberly Morgan- West, RISE Foundation
Date: Wednesday, October 21, 2020
Time: 4 p.m. to 5 p.m.
Age Group: 12 to 16 years old
Register here
How to Live on My Own

Speaker: Molly Polatty, Shelby County Trustees: Greater Memphis Financial Empowerment Center/Bank On Memphis
Date: Thursday, October 22, 2020
Time: 4 p.m. to 5 p.m.
Age Group: 17 to 20 years old
Register here
Small Business 101

Speakers: Kyle Hatler, Bank of America, and Anthony Young, EpiCenter
Date: Friday, October 23, 2020
Time: 11 a.m. to 12 p.m.
Age Group: 21 to 25 years old
Register here