Volunteer Memphis Hosting Free Financial Literacy Forums for Make a Difference Week
MEMPHIS, Tenn., October 11, 2021 – Volunteer Memphis and its partners are hosting a week of free financial literacy forums designed for youth and young adults during Make a Difference Week October 18 — 22. You can learn more and register for the forums on the Volunteer Memphis website at www.volunteermemphis.org/events.
"Volunteer Memphis is excited to partner with leaders in the financial community so we can work to increase financial know-how across Shelby County and give young people the fiscal skills they need to start out on the right foot financially," said Reggie Crenshaw, President and CEO of Leadership Memphis and Volunteer Memphis.
Panelists from Regions Bank, Bank of America, EpiCenter Memphis, Greater Memphis Financial Empowerment Center, Bank On Memphis, Junior Achievement, The RISE Foundation, Shelby County Trustees, Destiny House Memphis, and Young Wall Street Traders will host presentations on topics ranging from creating a budget to the road to ownership and many more.
"Make a Difference Week is about addressing a need in our community and this year's efforts will support those who hold our collective future in their hands, young adults ages 9 to 25," added Belinda Anderson, Volunteer Memphis Co-Chair for the event.
Volunteer Memphis' Make a Difference Week is a part of National Make a Difference Day, created by the nonprofit Points of Light to inspire people to give back to their communities. Over the last 30 years, Make a Difference Day has grown into the largest national day of community service.
"Volunteer Memphis' entire mission is about engaging volunteers and impacting the community," said Blake Elliott, Volunteer Memphis Co-Chair for the event, "We are honored and humbled that so many local organizations have stepped up to give back and teach our young people important financial skills."
Make a Difference Week Schedule
Monday, October 18 Your Road to Home Ownership 
Presented by Regions Bank
Presenters:
Donna S. Medina Vice President/Financial Wellness Relationship Manager
Rose O'Malley Mortgage Loan Originator
12 – 1 p.m.
Register for this Presentation
 Are All Online Banks Created Equal?
Presented by Greater Memphis Financial Empowerment Center/Bank on Memphis; FDIC; and Regiona Morrison Newman, Shelby County Trustee
Presenters:
Molly Polatty, Government Program Manager, Shelby County Trustee
Gloria Reynolds, Acting Regional Manager of Consumer Affairs – Dallas Regions FDIC
1 – 2 p.m.
Register for this Zoom presentation
Securing the Bag: How to start Investing as a Teen (Private Presentation)
Presented by Young Wall Street Traders
Private Presentation
Tuesday, October 19 Small Business 101
Presented by Epicenter Memphis and Bank of America
Presenters:
Kyle Hatler, SVP Commercial Banking, Bank of America
Anthony Young, Director of Epicenter Memphis
1 – 2 p.m.
Register for this Zoom presentation
Wednesday, October 20
Financially LIT: Budgeting Basics and Creating a Spending Plan
Presented by The RISE Foundation
Presenters:
Kimberly Morgan-West, MS, Senior Goal Card Program Coordinator, The RISE Foundation
4 – 5 p.m.
Register for this Zoom presentation  
Friday, October 22
JA in a Day (Private Presentation)
Presented by Junior Achievement
 Private Presentation
  PHOTOS: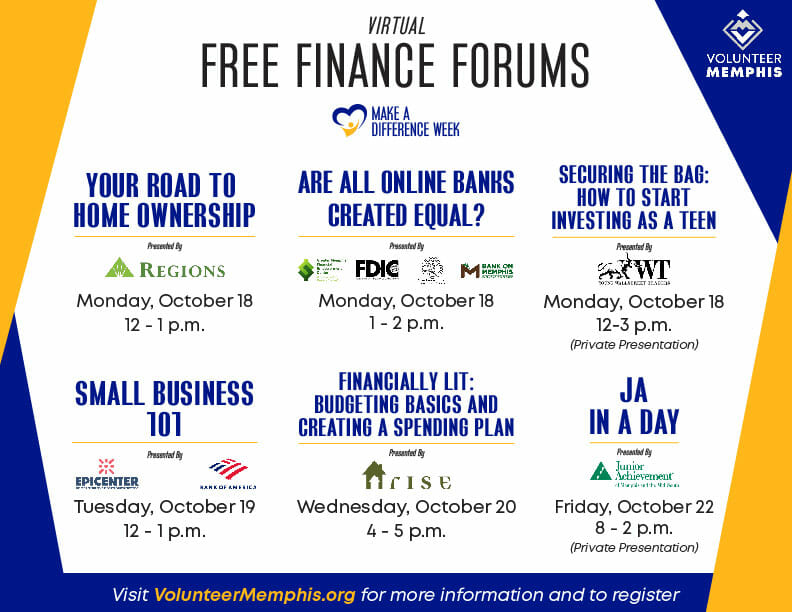 ###