Community Collaboration Honors Caregivers with Free Advice and a Special Paint Party — Don't Miss Out, Register Today!
MEMPHIS, Tenn. – November 8, 2021 – Volunteer Memphis is teaming up with Alpha Kappa Alpha Sorority, Incorporated-Beta Epsilon Omega Chapter and Baptist Memorial Health Care to host a virtual Caregivers' Day information session and paint party November 15 from 6 p.m. to 8 p.m. Caregivers' Day is free and open to anyone who would like to participate, you can learn more at the event website here https://www.eventbrite.com/e/the-art-of-caregiving-virtual-paint-party-tickets-172398056227.
Presenters from the Alzheimer's Association, Alzheimer's and Dementia Services will host an information session offering helpful techniques and advice to caregivers. After the information session, there will be a virtual paint party led by YellowRose Studio.
"Caregivers are responsible for supporting people who need them the most. Volunteer Memphis is proud to partner with outstanding organizations like Alpha Kappa Alpha Sorority, Incorporated-Beta Epsilon Omega Chapter and Baptist to thank caregivers for their selfless service and offer free advice that may help them as they care for others," said Reggie Crenshaw, President and CEO of Leadership Memphis and Volunteer Memphis.
Participants who register for the virtual Caregivers' Day can pick up their caregivers' kits and paint party supplies before the event at YellowRose Studios (4821 American Way Suite 303) at the times below:
Thursday, November 11, 4 p.m. – 6 p.m.
Friday, November 12, 4 p.m. – 6 p.m.
Saturday, November 13, 11 a.m. – 3 p.m.
Photos: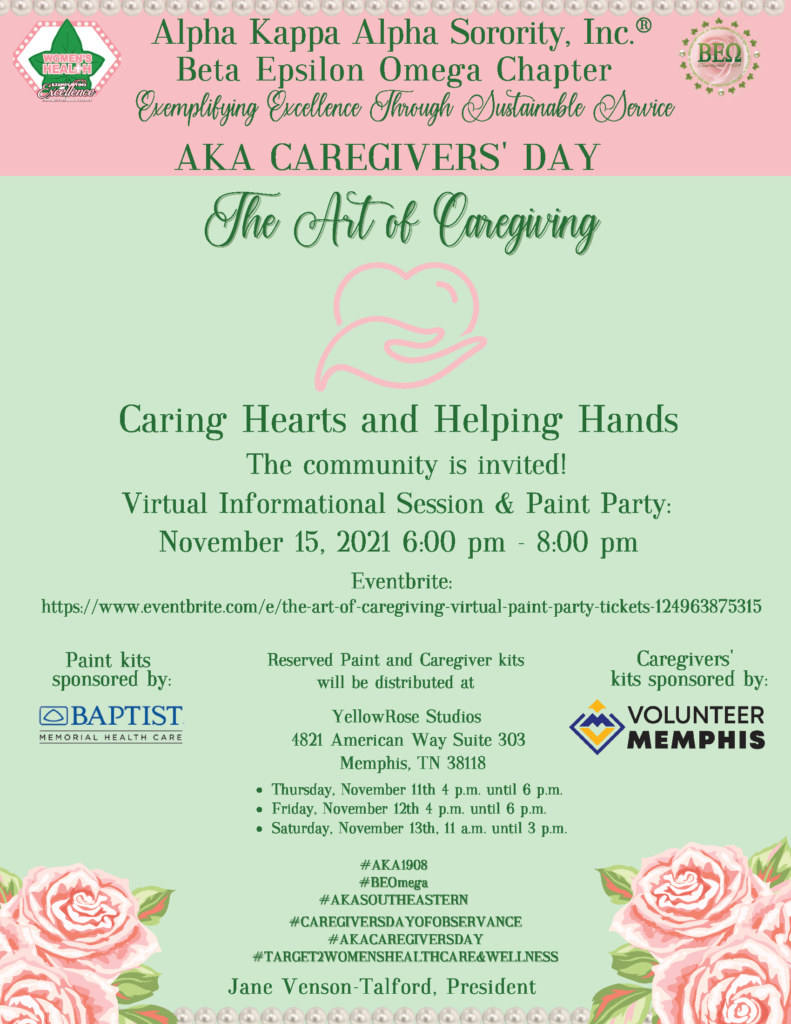 About Volunteer Memphis:
Volunteer Memphis builds capacity for effective volunteering and connecting people with opportunities to serve throughout Memphis and Shelby County. The organization helps individuals, families, corporate teams, and community groups strengthen Memphis and the Mid-South through service at more than 300 nonprofit organizations and schools. Our volunteers are at work every day of the year, tutoring and mentoring children, helping individuals and families make pathways out of poverty, improving our Memphis and Shelby County environment, and more. Volunteer Memphis is an affiliate of the Hands-On Network, an association of 250 volunteer service organizations across 16 countries and an action Initiative of Leadership Memphis. For more information, please visit VolunteerMemphis.org.
About Leadership Memphis:
Leadership Memphis is a non-profit, community leadership development organization. Its mission is to prepare and mobilize leaders to work together for the good of the whole community. Originally founded in 1979 as The Memphis Institute of Public Responsibility, Leadership Memphis has graduated more than 3,900 leaders from its programs. For more information, please visit LeadershipMemphis.org.
###