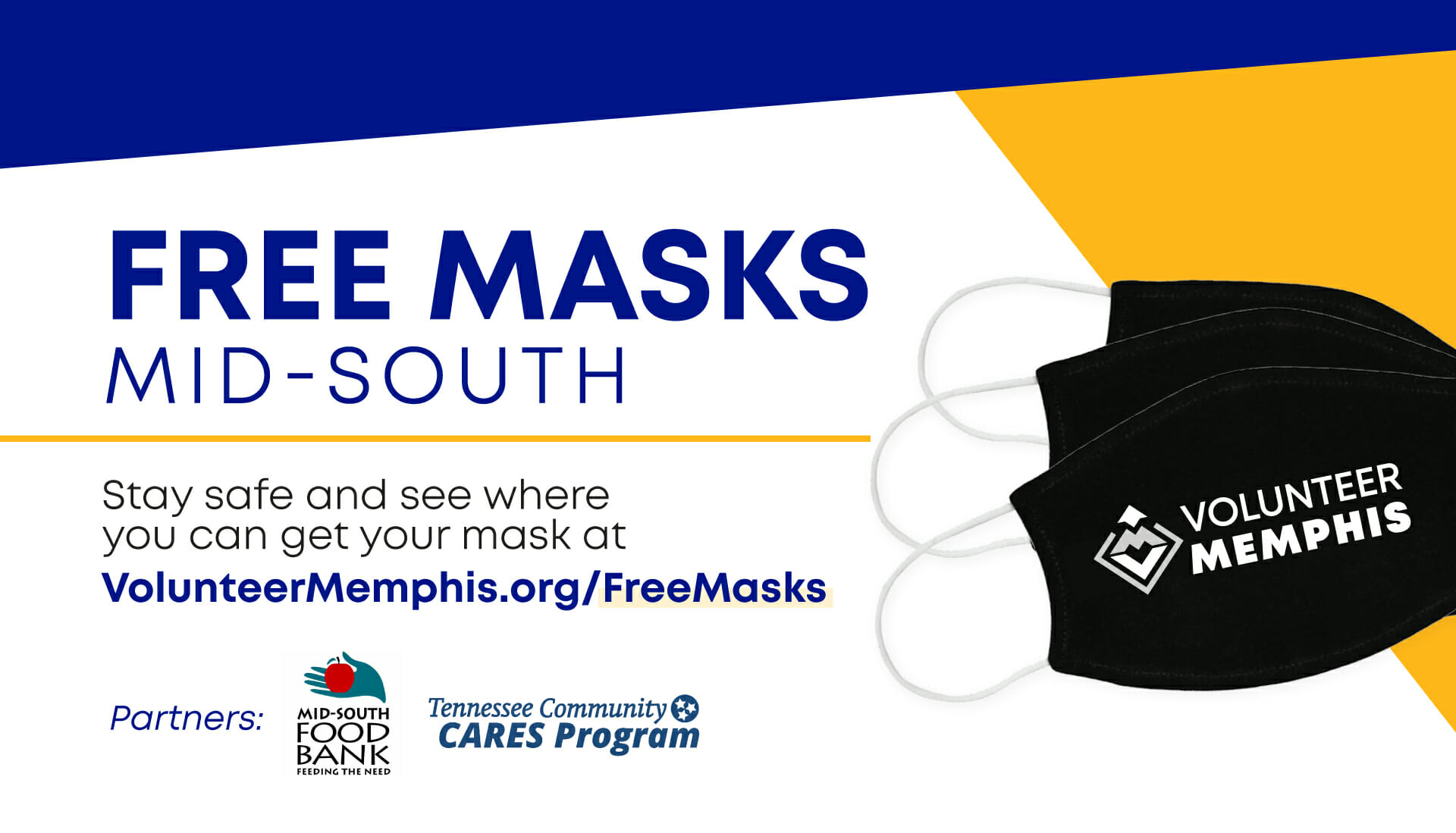 Free Masks Mid-South
Volunteer Memphis is giving away 20,000 masks during the Free Masks Mid-South program from November 17 to December 22. Volunteers will join with the Mid-South Food Bank to hand out the masks at sites across the Mid-South.
Organizers from Volunteer Memphis and the Mid-South Food Bank will host 16 different giveaways in four Mid-South counties over the span of the program.  Anyone can pick up a free mask at the giveaways, but those that want food must register at the Mid-South Food Bank's website https://www.midsouthfoodbank.org/.
Volunteer Memphis created Free Masks Mid-South after earning a grant from the Tennessee Community CARES Program. The funding was awarded to nonprofits that could help provide aid for the COVID-19 pandemic and work to flatten the curve.
The Centers for Disease Control and Prevention says that wearing a mask is proven to slow the spread of COVID-19. Memphis Mayor Jim Strickland and Shelby County Mayor Lee Harris issued a mask mandate that is still in effect on November 30, 2020.
Free Masks Mid-South Giveaways
| | | | | |
| --- | --- | --- | --- | --- |
| 12/5/20 | 10:00 A.M. | MEMPHIS DAWAH ASSOCIATION | 837 CRAFT ROAD MEMPHIS, TN 38116 | SHELBY |
| 12/5/20 | 10:00 A.M. | JUNIOR LEAGUE OF MEMPHIS | 317 TILLMAN ST., MEMPHIS, TN 38112 | SHELBY |
| 12/15/20 | 9:00 A.M. | RIVER OF LIFE | 220 BEAVER RD., MUNFORD, TN 38058 | TIPTON |
| 12/16/20 | 10:00 A.M. | WESTWOOD YOUTH DEVELOPMENT | 620 PARKROSE AVE., MEMPHIS, TN 38109 | SHELBY |
| 12/16/20 | 10:00 A.M. | HURTS CHAPEL | 10998 HWY 178, OLIVE BRANCH, MS 38654 | DESOTO |
| 12/19/20 | 9:00 A.M. | IGLESIA NUEVA VIDA | 4945 WINCHESTER RD., MEMPHIS, TN 38118 | SHELBY |
| 12/19/20 | 9:30 A.M. | WASHINGTON CHAPEL CME CHURCH | 68 EAST MITCHELL RD., MEMPHIS, TN 38109 | SHELBY |
| 12/19/20 | 10:00 A.M. | NEW MT ZION | 13510 N. MAIN, SOMERVILLE, TN 38068 | FAYETTE |
| 12/22/20 | 10:00 A.M. | LAGOSHEN | 490 LAGOSHEN DR., MOSCOW, TN 38057 | FAYETTE |