2022 Volunteer Memphis Awards Nominations Now Open 
MEMPHIS, Tenn., April 4, 2022 – Volunteer Memphis wants you to nominate exceptional volunteers, nonprofits, businesses, and healthcare workers for the 5th annual Volunteer Memphis Awards. Nominations can be submitted online using the Volunteer Memphis website at https://volunteermemphis.org/volunteer-memphis-awards/.
"The Mid-South is known for being one of the most selfless examples of volunteerism across the country and we are honored to be able to celebrate exceptional service with the Volunteer Memphis Awards," said Reggie Crenshaw, President and CEO of Leadership Memphis and Volunteer Memphis.
The Volunteer Memphis Awards are a celebration of the more than 300,000 Mid-South volunteers that selflessly give their time to help those in need. Volunteer Memphis partners with more than 300 organizations to serve people across the Mid-South. The Volunteer Memphis Awards is a chance for communities to call attention to the incredible work their volunteers, nonprofits, businesses, and healthcare workers are doing.
"We are thrilled to be returning the Volunteer Memphis Awards to an in-person format this year. We are looking forward to safely celebrating our honorees and giving them the recognition they deserve," said Shelby Stonecipher, Director of Volunteer Memphis and Community Outreach.
The 5th annual Volunteer Memphis Awards will be held June 23 at the Memphis Botanic Gardens. Anyone interested in learning more or submitting a nomination can do so online at https://volunteermemphis.org/volunteer-memphis-awards/.
All nominations for the Volunteer Memphis Awards are due by May 13, 2022 at 11:59 p.m. Please make sure all nominations follow the guidelines below.
Nominations are accepted from the following counties: Fayette, Haywood, Lauderdale, Madison, Shelby and Tipton counties in Tennessee – DeSoto, Tate and Tunica counties in Mississippi – Crittenden County in Arkansas.
Nomination Guidelines:
Nominations accepted March 14 – May 13, 2022 at 11:59 p.m.
Self-nominations are accepted
Only fully completed submissions will be accepted
There will be 3 finalists — finalists will be notified no later than June 3, 2022
Every nominee will receive a certificate of appreciation
VOLUNTEER MEMPHIS AWARD CATEGORIES
2022 Volunteer of the Year
Nominees can be a board member, millennial volunteer, community advocate, lifetime volunteer, or volunteer administrator that has given exemplary service to one or more nonprofit, civic, or faith-based organizations.
2022 Nonprofit of the Year
The nominated organization demonstrates a commitment to outstanding volunteer management practices that result in a significant, meaningful, and measurable impact in the Mid-South community. This organization should offer dynamic volunteer program(s) and opportunities that are meaningful and engaging to its staff, volunteers, and the community it serves.
2022 Corporate Citizen of the Year
A business or company that has exhibited outstanding philanthropic support in the community. This corporation has been instrumental in providing an exceptional volunteer program that allows and encourages employees to engage in the community.
Healthcare Humanitarian
A healthcare worker (first responder, healthcare practitioner, healthcare technician, or healthcare support worker) who has demonstrated outstanding commitment to their progression and to the health of the Mid-South.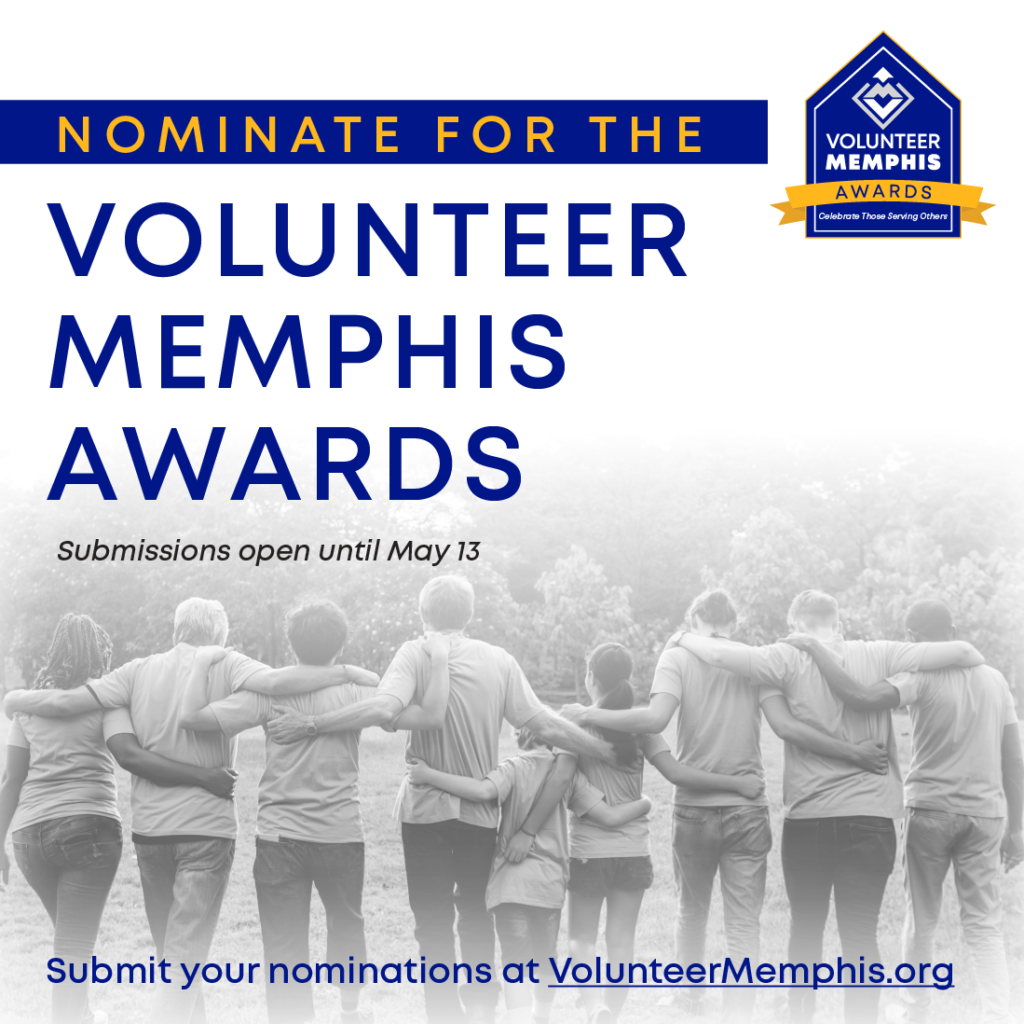 About Volunteer Memphis:
Volunteer Memphis builds capacity for effective volunteering and connecting people with opportunities to serve throughout Memphis and Shelby County. The organization helps individuals, families, corporate teams, and community groups strengthen Memphis and the Mid-South through service at more than 300 nonprofit organizations and schools. Our volunteers are at work every day of the year, tutoring and mentoring children, helping individuals and families make pathways out of poverty, improving our Memphis and Shelby County environment, and more. Volunteer Memphis is an affiliate of the Hands-On Network, an association of 250 volunteer service organizations across 16 countries and an action Initiative of Leadership Memphis. For more information, please visit VolunteerMemphis.org.
About Leadership Memphis:
Leadership Memphis is a non-profit, community leadership development organization. Its mission is to prepare and mobilize leaders to work together for the good of the whole community. Originally founded in 1979 as The Memphis Institute of Public Responsibility, Leadership Memphis has graduated more than 3,900 leaders from its programs. For more information, please visit LeadershipMemphis.org.