Volunteer Memphis Awards 2021 Voting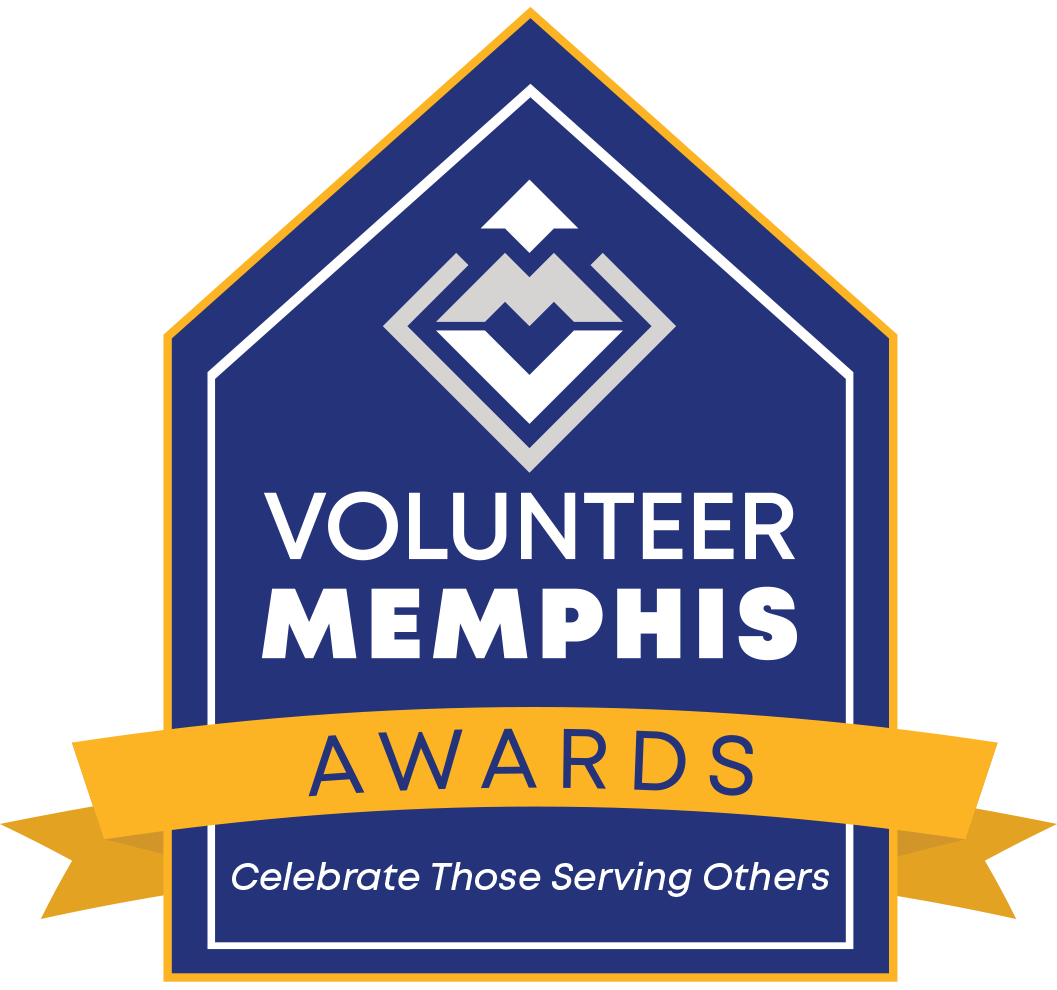 Volunteer Memphis needs your help to select the Volunteer Memphis Award winner in the following categories: Volunteer of the Year, Nonprofit of the Year, and Corporate Citizen of the Year.
Our judges reviewed all the nominees carefully and thoughtfully narrowed down each category to three finalists. Your vote will help decide the winner in each category!
You can find the voting drop-downs for each category below. Voting is only open through June 4 and there is no limit to how many times you can vote – so vote early and often! Your votes will help us celebrate the exceptional volunteers across the Mid-South.
Don't forget to RSVP for our virtual ceremony on June 24, where we will reveal our Volunteer Memphis Award winners!
2021 Company of the Year
Blue Cross Blue Shield of Tennessee: In 2019 alone, Blue Cross Blue Shield of Tennessee (BCBST) volunteers performed more than 11,500 hours of service across the state. More than 900 hours of that service were performed in the City of Memphis by 347 volunteers. In 2020, BCBST 178 employees selflessly performed more than 300 volunteer hours in the midst of a global pandemic. Since the beginning of 2021, they have completed more than 250 volunteer hours with 117 employees serving with multiple local organizations. As a company, BCBST encourages a culture of volunteerism through the volunteer opportunities they provide and by allowing employees to register volunteer hours they've done on their own.
Buckman: Buckman's role as a community and corporate advocate across a range of projects helps land itself among this year's Volunteer Memphis Awards Finalists. Their commitment to Memphis outdoor beautification has been evident with projects at Gooch Park and their work with Memphis City Beautiful during past Volunteer Memphis' MLK Days of Service. Buckman partnered with their neighbor, NexAir, to donate four SkyCop cameras to the Memphis Police Department which additionally contributed to the safety of those families who make the nearby park part of their daily lives.
In addition to their outdoor efforts, Buckman participates in arts and culture meetings with the UrbanArt Commission and Memphis Parks and Neighborhoods. Organization leaders say they model their efforts after the philanthropic works of Mrs. Mertie Buckman, the first lady of Buckman, and the spirit of caring she passed on to the company and their employees which we know today as BuckmanCares.
Terminix Global Holdings: Terminix believes in creating a culture where their teammates are empowered to give back to communities where they live and work. In 2020, Terminix supported numerous employee-involved causes to better our communities in the areas of education, health and wellness, and COVID-19 relief assistance. In partnership with Communities in Schools – Terminix hosted a nine-week program for 17 Memphis-area interns from an underrepresented community (and grades 12 through college) to provide job experience, career exposure, and professional development. Terminix supported employees through the Terminix Teammate Disaster Relief Fund. Funded by Terminix and its teammates, the Fund helps teammates facing financial hardship immediately after a federally declared disaster. Donations expanded in 2020 to assist teammates impacted by COVID-19. In 2020, Terminix also established the Terminix Cares Teammate Assistance Fund. This fund was created to help teammates who are facing financial difficulty because of an unforeseen personal hardship. The Fund relies primarily on individual donations from teammates and support from Terminix to fund this program. Terminix matches teammate donations to the Disaster Relief and Teammates Assistance Funds, dollar for dollar.
2021 Nonprofit of the Year
A Betor Way: A Betor Way's mission is to be a source of assistance to addicts and those affected by addiction. Their work centers around advocating for improved addiction treatment options and erasing the stigma associated with substance abuse disorder. Since August 2019, A Betor Way has hosted a weekly harm reduction event where for over three hours volunteers offer supplies, clean needle exchange, hygiene kits, food, and medical testing to addicts that misuse substances. These same volunteers offer a friendly ear and information for anyone looking for help with recovery. A Betor Way has developed a volunteer program that also engages multiple former addicts that are now living in recovery thanks to A Betor Way's programs and assistance.
Juice Orange Mound: Juice Orange Mound's (JOM) mission is to develop and advance the self-reliance of Orange Mound and the larger community by building capacity and engagement among citizens and businesses. JOM has provided free assistance to more than 57 people. Their volunteer efforts range from community giveaways that feature items like cots, food, and clothing – to helping residents get medical treatment like eye exams, mammograms, or transport to Christ Community Health. During the summer, JOM facilitates a community garden on Park Avenue for anyone to come to learn about gardening. JOM also offers entertainment programs like free karaoke, exercise equipment, movie night/TV. JOM works to connect the community and connect resources to those in need.
Meritan, Inc.: Meritan, Inc. has a heart for helping others and that drive to serve has helped them support more than 1,600 people across the Mid-South each year. Meritan staff assists victims of elder abuse with nursing and medical visits, housing assistance, in-home services, and they help provide medication and personal products for these victims so that any transition these seniors may endure is peaceful and impactful for their well-being. During the pandemic, Meritan noticed that homebound individuals were even more cut-off from the world. With most people staying home, they noticed that communication to the outside world had sharply declined with our clients. Meritan created a letter-writing volunteer campaign where volunteers wrote letters to our homebound seniors to brighten their day.
2021 Volunteer of the Year
Mary Nease: Mary Nease is a dedicated volunteer with Cavalry Church where her efficient and detail-oriented style has made a difference in countless peoples' lives. Nease has been a co-leader of the Breakfast Ministry at Calvary for 20 years. She has served a hot delicious meal to over 104,000 people in need through the years. Even during the Covid pandemic, she continued to volunteer, rain, sleet, heat, or snow. After realizing many of these guests had not received funds because they had no address, Nease led a group of volunteers in helping these people apply for COVID-19 stimulus checks. Church organizers say Nease has revamped the way they serve multiple times through the years by encouraging others to focus on the needs of the individual as well as the group. Nease's efforts are such a legend at Cavalry Church, organizers often share the story of her working on volunteer spreadsheets from a hospital bed, determined not to let anything keep her from helping others when she fell one Sunday while volunteering!
Shirley Senko: Shirley Senko is a proud volunteer at Birthright of Memphis, Inc. Others have described her as incredibly reliable, devoted, and loved. Senko volunteers multiple times a week for several hours helping to manage the baby and maternity closets for Birthright. After noticing Senko's skill for organization, Birthright asked for her help with auctions and fundraising efforts where she has made an instant impact. Senko's willingness to share her time, talents, and resources has led to others emulating her high standards and consistency. A very talented and skilled baker, Senko often bakes delicious pumpkin bread from fresh pumpkin when she isn't volunteering.
Chanel Sharp: Chanel Sharp has completed over 3,000 community service hours, 450 leadership training hours, and 25+ presentations with the Beautiful Spirited Women (BSW) program. Sharp created the mastermind scavenger hunt for girls, where through thoughtful and dedicated planning, young women are encouraged to open up, speak out, ask questions, or simply be excited to be a part of a group. BSW leaders say Sharp has brought in over 200 girls from at-risk neighborhoods and raised more than $10,000 in donations from her employment, friends, family, and neighborhood to continue to make a difference. As the Human Resource Specialist for the Internal Revenue Services, Sharp knows the importance of teamwork, training development, analyzing problems, determining qualifications of volunteers, preparing important documents, and completing the important tasks on time. With her leadership and experience, Sharp has led 12 or more leadership training sessions for BSW.